- Determing the overall length needed

- One box consists of six 4' panels, totalling 24'

-Add lengths and corners as needed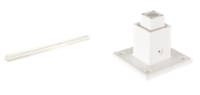 -Choose your installation type. Soft surface will include ground anchor stakes for dirt or grass and hard surface will include base mounts.

Step Three:
-Establish how many 90° corners you need

-Add a 4' wide double gate as needed as part of your 24' section
"Keep things in, and keep things out" with SnapFence®. Ideal for protecting gardens, children, and small animals. Made in the USA with heavy duty vinyl assuring your fence will never rust. Each kit contains six 4' sections for a total of 24' and six pieces of high quality white vinyl 31 1/2" x 48" lattice.
Fence panel kit - assembly required
Includes six 31 1/2" x 48" high quality white vinyl lattice panels
Add additional sections to complete the total length needed for your project
Specify the number of 90° corners your project requires in the drop down
Available with 4-foot gate insert (Select "Included Gate" in drop down). Gate section includes parts for double gate with a 42" opening clearance. Gate posts must be concreted into the ground for best results. Latches not included.
Can be installed on soft surfaces such as grass or dirt by using Ground Anchor Stakes or over hard surfaces such as concrete or wood decking using Base Mounts. Concrete anchors and screws not included.
1 1/2" x 1 1/2" Post and Rails; can be easily cut to size as needed using a hand saw, chop saw, or electric saw.
Posts are four feet on center
Need a special size? Contact us!
Heavy duty, low maintenance vinyl construction
Limited Lifetime Warranty
Made in the USA
U.S. Patent No. 9,816,286