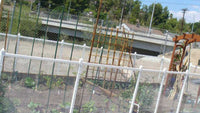 Protect what's important.
SnapFence is a wire modular fencing system that's been engineered to offer both security and accessibility. Our top & bottom rails paired with our patented wire clip system ensure flawless results that will stand the test of time.
Fast, easy and secure garden fencing that works.
Choose the sizing and installation that meets your needs.
Creating portable solutions is easy.
Customize every project to meet your unique needs.
Patented components make creating indoor or outdoor solutions a breeze.
What makes SnapFence different?
Creating the perfect wire modular fencing solution to protect gardens and small animals should be easy and affordable, but most importantly, it should actually work! Our design addresses the fundamental issues with common systems on the market to provide you with a dependable long-term fencing solution. Our rails go all the way to the top and bottom of the system to ensure that nothing can slip under, and additional netting or wire can be added to the top for protection from predators from above. These features, along with our patented wire clips, ensure a secure hold and long-lasting results.
- FREE SHIPPING-
On our Lattice and Wire Mesh Fencing!
Location
Contact Us
1 (888) 959-4471
Mon - Fri, 7:30am - 4pm PST
sales@snapfence.com
Testimonials
I need to install a fence to contain our puppy to a raised deck. The opening was non-standard size and SnapFence allowed me to custom assemble the gate perfectly. Very pleased with the quality of the materials and the installation instructions. 

David M.
I purchased SnapFence to help me keep critters out of my flower garden. The look is great and everyone admires it. 

Betty B.
I needed to build specialized enclosure to prevent rodents from eating my grapes and vegetable gardens. The parts allow for great creativity. They are easy to cut, and so far show no signs of deterioration due to the sun. The parts fit together snugly and are thick-sided and well made. 

Glen K.